Contemporary fashion brand Nicce opens first stand-alone store
www.retail-focus.co.uk
www.retail-focus.co.uk
2020-12-03 11:12:07
The London Designer Outlet in Wembley Park will welcome contemporary fashion brand Nicce with doors opening from 17th September. This is Nicce's first stand-alone store and marks its welcome and long anticipated permanent arrival to the high-street.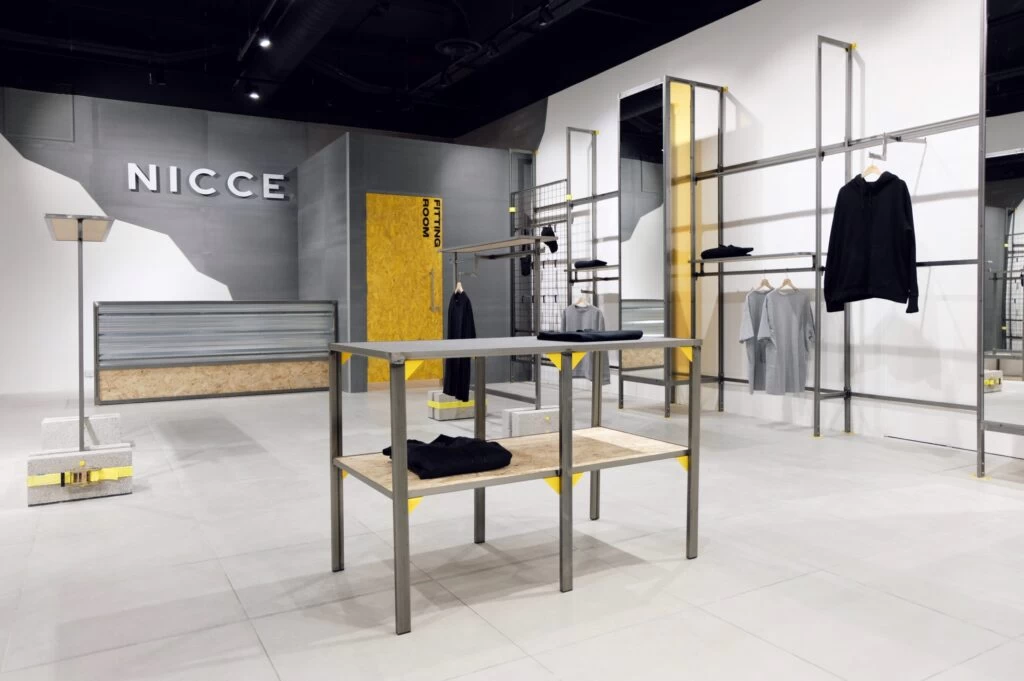 Mitchel Galvin-Farnol, founder of Nicce, said in a statement: "Wembley Park's cultural and community engagement programmes were a key factor behind our decision to open our first stand-alone location at London Designer Outlet. The outlet will give us a platform from which to reach a diverse and varied customer base. Both within the catchment and visitors from further afield as lockdown restrictions continue to ease. The success of London Designer Outlet gives us confidence in the future of physical retailing and we're looking forward to opening our first outlet location and being a part of the scheme."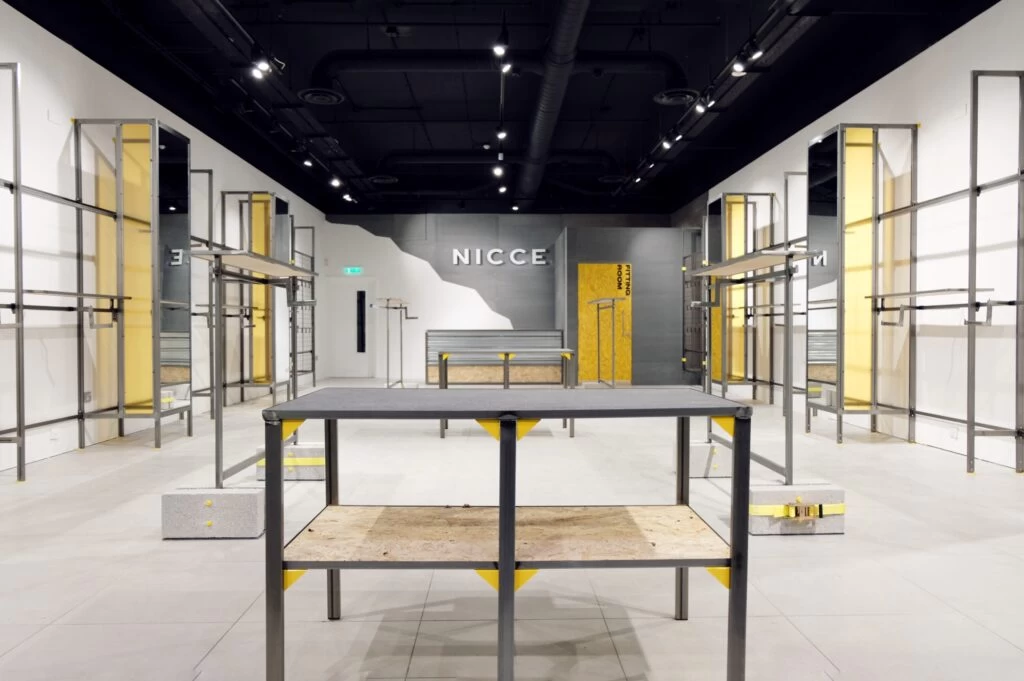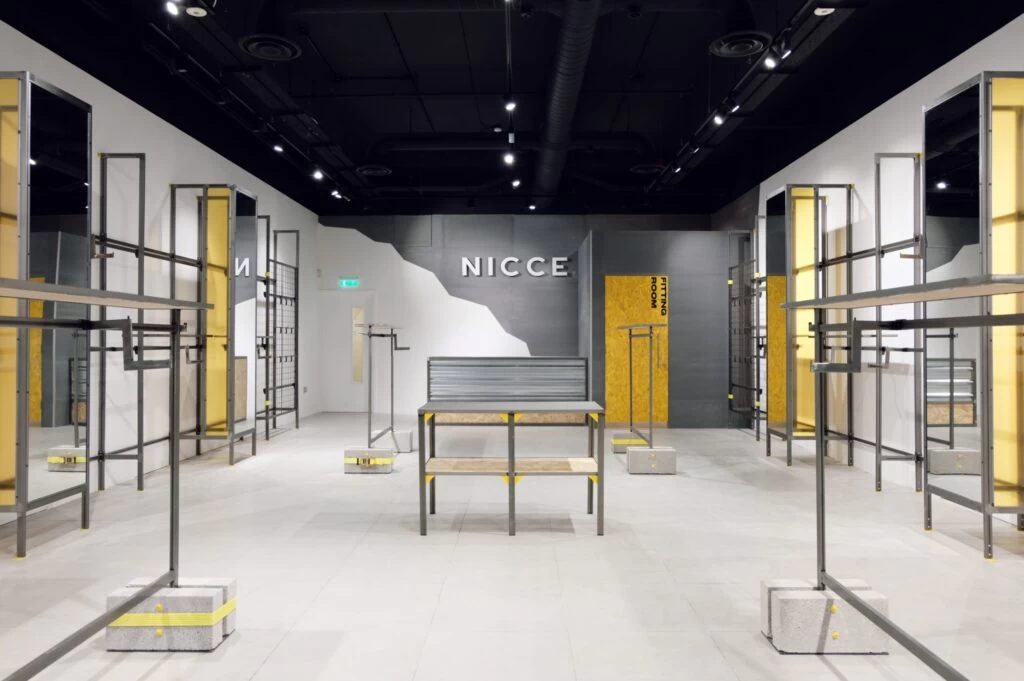 Nicce was born out of a love for music and inner-city subcultures with the brands inception taking place in and amongst the Ibiza music scene. The logo and name itself are a reminder of the brands humble but personal start, with the name routed in the founders colloquial expression of "niiiiiiicce" (an elongated version of "nice") to express positive sentiment which in turn finally became Nicce because of the double c (pronounced 'nee-chee'). The striking, clean and simple logo is what consumers recognise and love and this also helped to drive our design language for the store. The rich culture of the brand, which relies and thrives on the passion and diversity of its fans and consumers, is what drives the brand and what feeds into its aesthetic both through the clothes and its community events.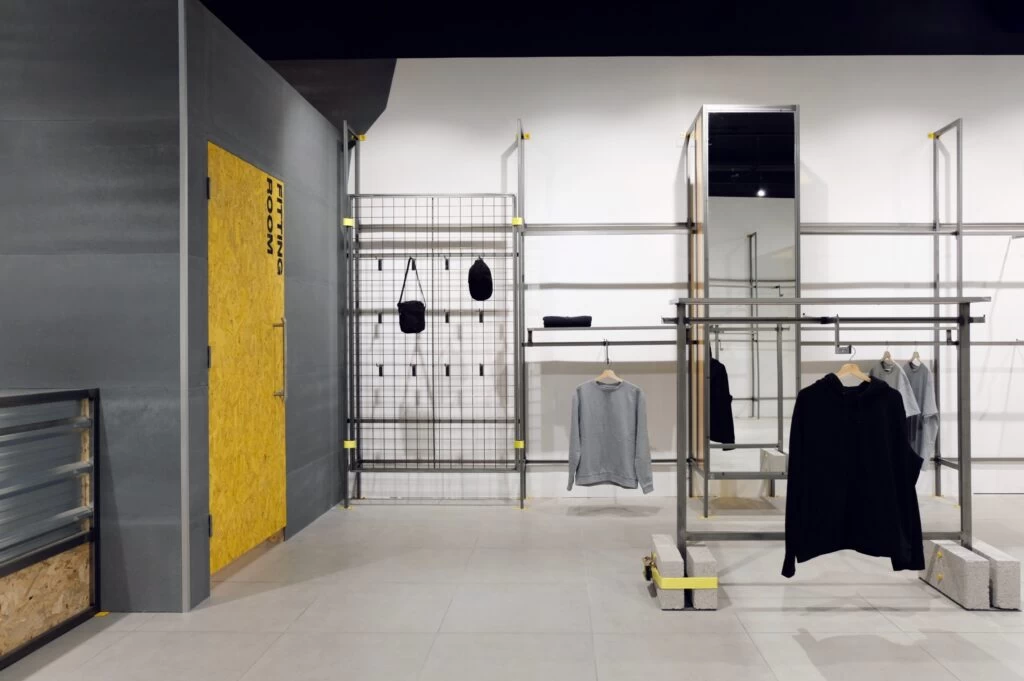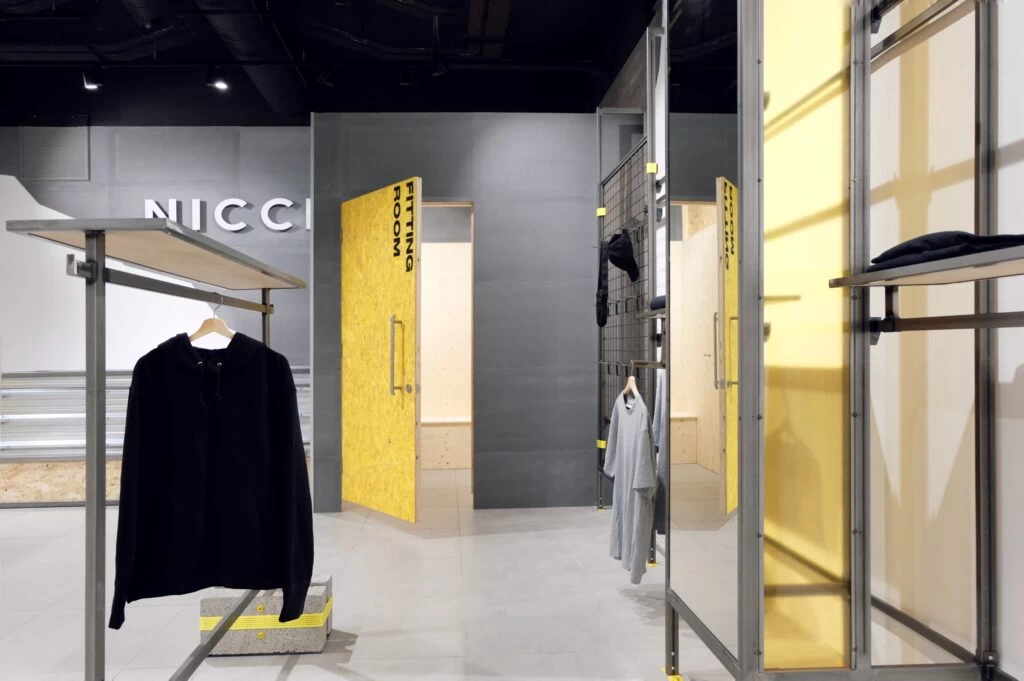 Retail design company, Seen Displays have collaborated with Nicce over a number of years, taking the brand ethos and culture to build a signature aesthetic across pop-ups and international retail concessions. The Wembley store gave Seen Displays an opportunity to cement Nicce's visual retail identity.

The store design aims to honour Nicce's clean-cut and contemporary image, seamlessly weaving between street culture and the music scene.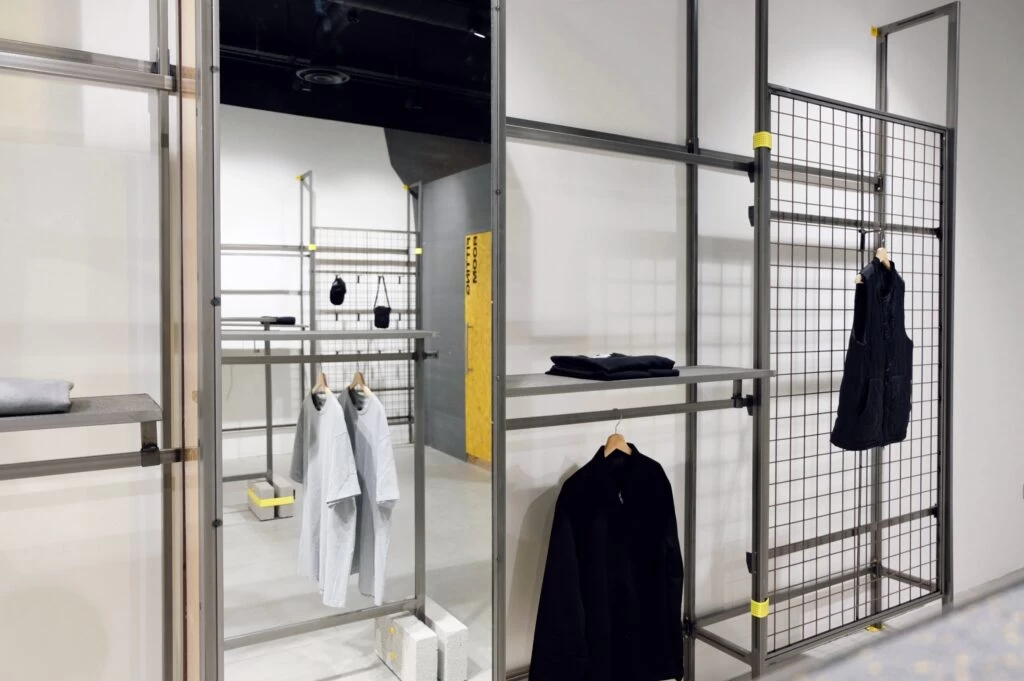 Crisp white walls intersect with cutaway concrete sections, the fixtures and furniture carry a raw and industrial material palette punctuated with accents of acid yellow. This creates a stimulating yet honest environment using circular design principles and responsible material choices where possible. Recycled grind rubber and OSB engineered wood feature throughout the space to avoid the need for virgin rubber and timber.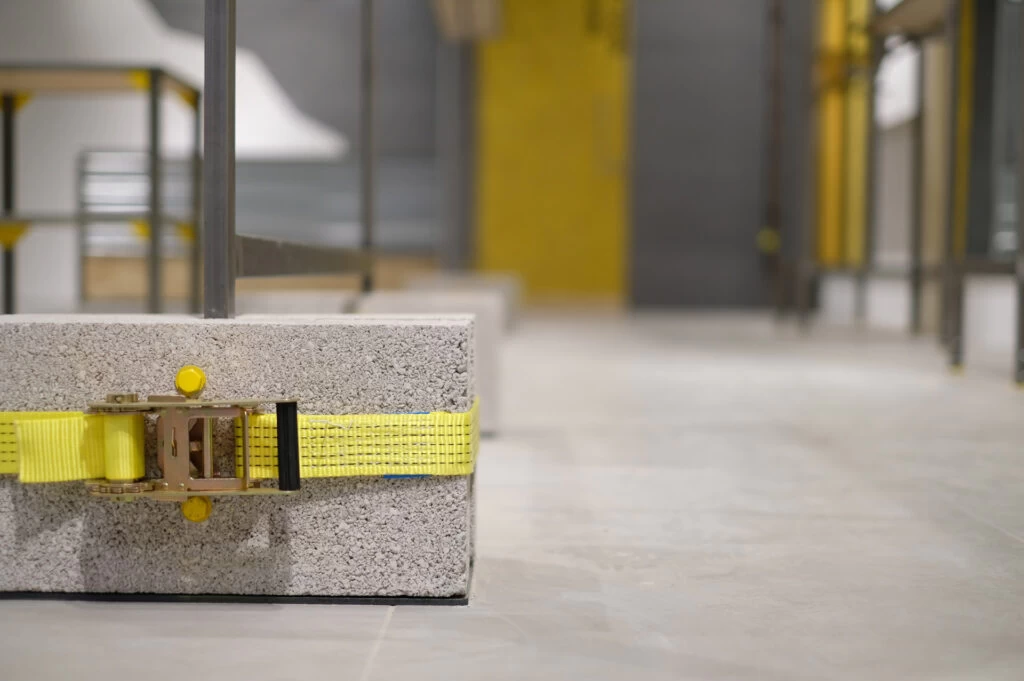 Marketing Director at Nicce commented, "To be able to create this space with materials that are off the shelf, as well as using reclaimed items, to avoid creating more waste and still create something which is reflective of the brand's aesthetic was hugely important to us and we feel we have achieved that."

For the launch, the windows were designed using repurposed scaffold structures and integrated digital screens to leverage the stream of shareworthy content across Nicce's online and social channels.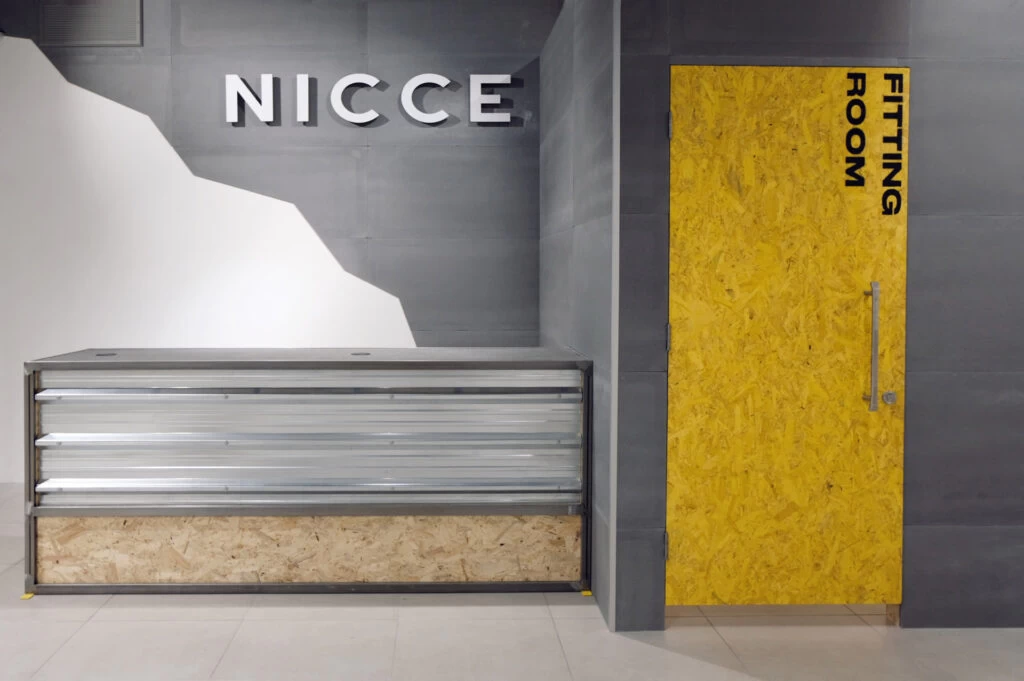 As the purpose of retail environments continues to be challenged the space was designed for flexibility by developing a modular fixture and perimeter wall bay system. The furniture and equipment can stretch and compress as stock of product fluctuates and to keep the environment adaptable and multi-functional.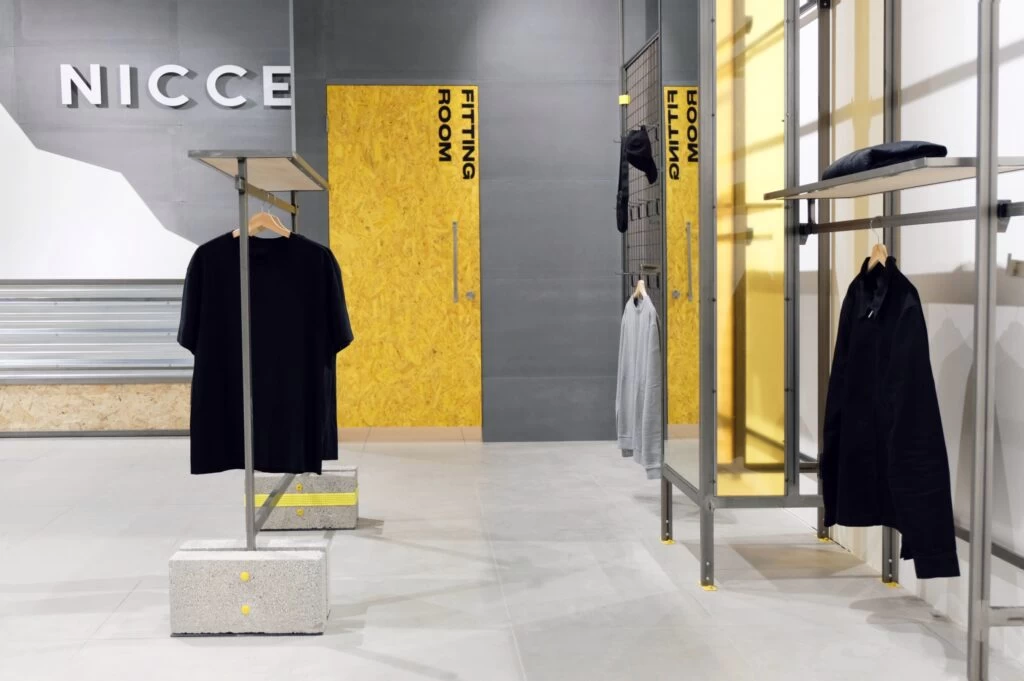 The overall effect is a clean and striking space which gives the product space to breathe and the consumer a clear retail journey. With community at its core it was important to Nicce that the space reflected its consumers and their on-going support for their audience. This is a direct reflection of their head office and the initiative behind N Studio:

Nicce's Marketing Director said "We are in an area where there are a lot of creative kids that are also our consumers, really into their music but who don't have a space to practice and play…. they simply don't have the tools to get their music out… from that we decided to build N Studio a not for profit platform for all sorts of creatives."

N Studio supports local art, music and creative community initiatives and projects to help nature creativity and expression within the local community. Future plans for the brand may be to introduce this experiential approach into this store with DJ events and community activations. For now, the Wembley store is a confident and triumphant step into the permanent retail space offering a striking design for their audience to remain valued and supported.

Forward from https://www.retail-focus.co.uk/