Harrods opens stand-alone beauty store H beauty at Intu Lakeside
www.retail-focus.co.uk
www.retail-focus.co.uk
2020-12-10 18:07:00
Harrods has announced its very first stand-alone beauty concept, H beauty which is now open in Intu Lakeside, Essex. The 23,000 sq. ft. space is designed to embody the future of beauty, providing an open and expansive space for customers to safely shop some of the most coveted and forward-thinking brands in the world, from legacy brands such as Chanel, La Prairie and Creed to pioneering, new generation beauty brands such as Huda Beauty, 111Skin and Uoma, H beauty is the destination for all things beauty.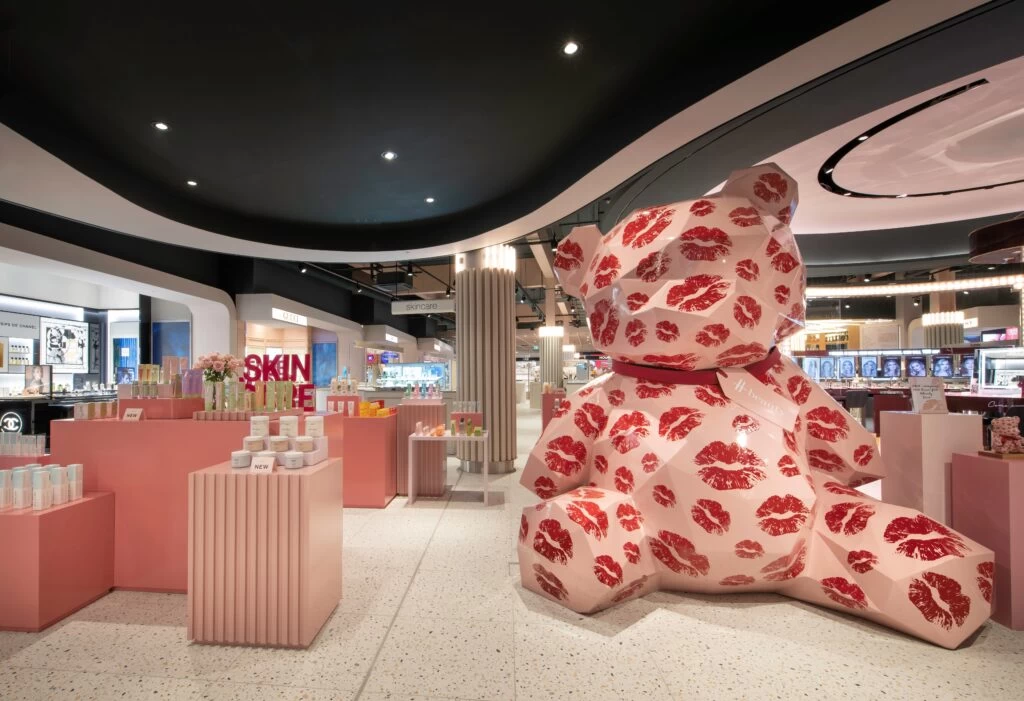 H BEAUTY LAKESIDE 2020 – PHOTOGRAPHER AUSTIN HUTTON

H beauty aims to disrupt the UK beauty retail industry by creating an unparalleled wonderland that combines a diverse portfolio of premium and luxury brands with Harrods famous experiential beauty retail environment.  H Beauty will offer exclusive, experiential services, everchanging retail innovation and timeless products to create a sensational world for beauty lovers to discover and enjoy.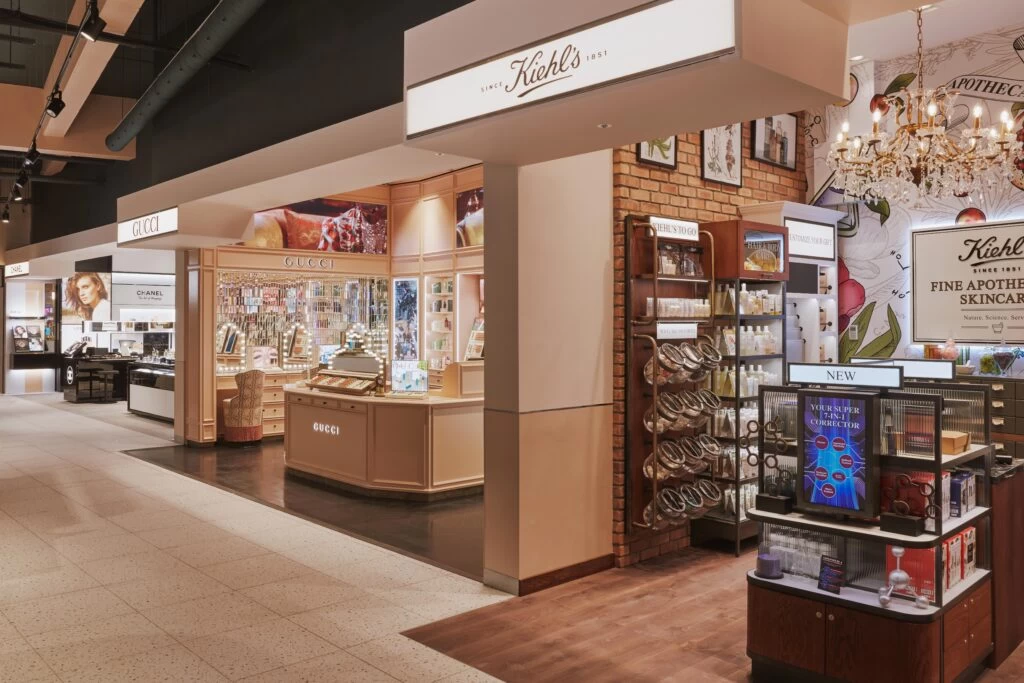 H BEAUTY LAKESIDE 2020 – PHOTOGRAPHER KENSINGTON LEVERNE

Annalise Fard, director of beauty, fine jewellery & watches and home at Harrods said "As Harrods very first beauty specialist retail space, H beauty is going to be a significant addition to the beauty landscape and will be a game-changing, destinational, beauty emporium offering experience, make-up, skin care, hair care and fragrance.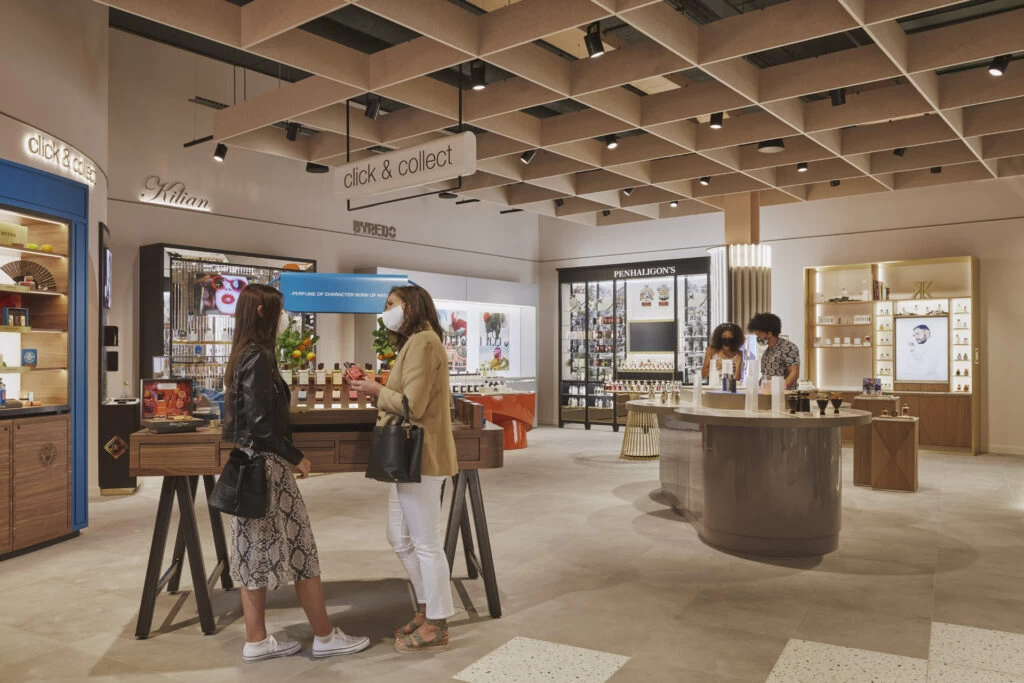 H BEAUTY LAKESIDE 2020 – PHOTOGRAPHER – KENSINGTON LEVERNE

I see beauty as the entry point into luxury and it's very exciting to be able to take the excitement and engagement for beauty and really deliver it to a customer on a wider platform. Harrods has vast authority and strong brand relationships within the beauty industry which has provided us with the opportunity to offer H beauty customer's both well-recognised brands that they know and love very much directly from Knightsbridge as well as an exciting array of entirely new brands that can only be found at H beauty.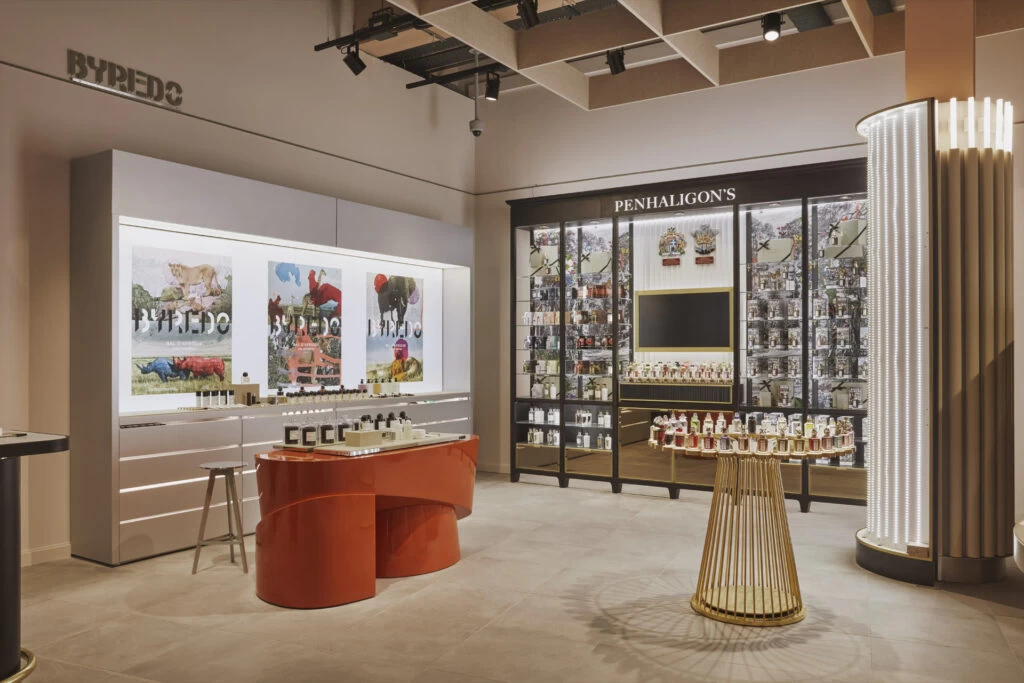 H BEAUTY LAKESIDE 2020 – PHOTOGRAPHER – KENSINGTON LEVERNE

By opening the first H beauty store in Lakeside and the second closely following in Milton Keynes, we are bringing beauty to an incredibly responsive community of existing beauty lovers. Although the brand portfolio will be similar across both locations, the edit will be slightly different according to the culture of that location, city or that particular client and will allow H beauty to be the central beauty hub in each destination."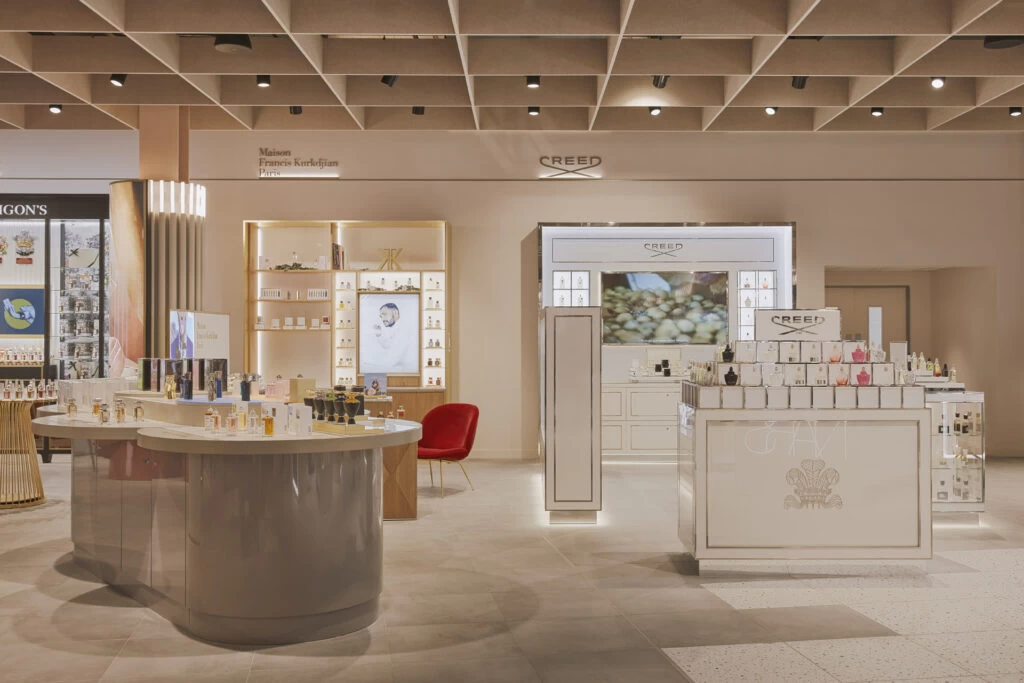 H BEAUTY LAKESIDE 2020 – PHOTOGRAPHER – KENSINGTON LEVERNE

With inclusivity and self-expression at the heart of H beauty's ethos, the H beauty buying team, led by Annalise Fard and Mia Collins, carefully curated an exceptional offering that will deliver something for every customer's desire, in one accessible hub.

Alongside H beauty's aim to attract regional customers to the brands that Harrods beauty halls are celebrated for such as Kilian Fragrance, Tom Ford Makeup, Balmain Hair and YSL Beauty, younger, revolutionary, and digitally-led brands at the heart of the brand curation and will be the driving force behind the journey into beauty discovery and self-expression. These brands, such as Beauty Bio, technology designed to enhance product effectiveness and overall skin wellbeing and Erborian, a K-beauty brand which has captivated an audience that demands naturally glowing, healthy skin, have been selected to bring H beauty to the forefront of the beauty retail industry.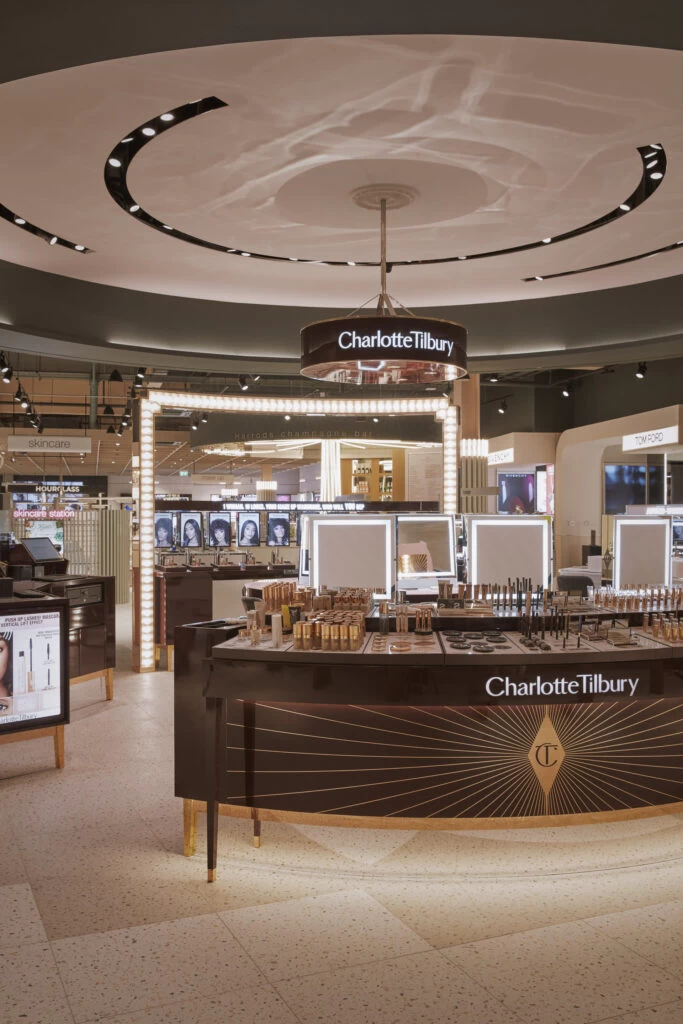 H BEAUTY LAKESIDE 2020 – PHOTOGRAPHER – KENSINGTON LEVERNE

Mia Collins, head of beauty at Harrods commented: "H beauty has really bold ambitions, but they're ones that are entirely befitting of this amazingly vibrant & dynamic category that is Beauty and to have the opportunity to pair this with equally vibrant and dynamic communities across the UK is nothing short of epic. Through H beauty we are bringing the essence and magic of Beauty at Harrods to a bigger audience and we can't wait to debut this concept in Essex – home to some of the UKs most discerning Beauty consumers.

We have worked hard to create a packed calendar of exclusive brands and pre launches and a raft of brands that simply won't be available anywhere else in Lakeside – cue Charlotte Tilbury; Byredo, Dr Barbara Sturm, IGK, Huda Beauty…the list goes on…and on."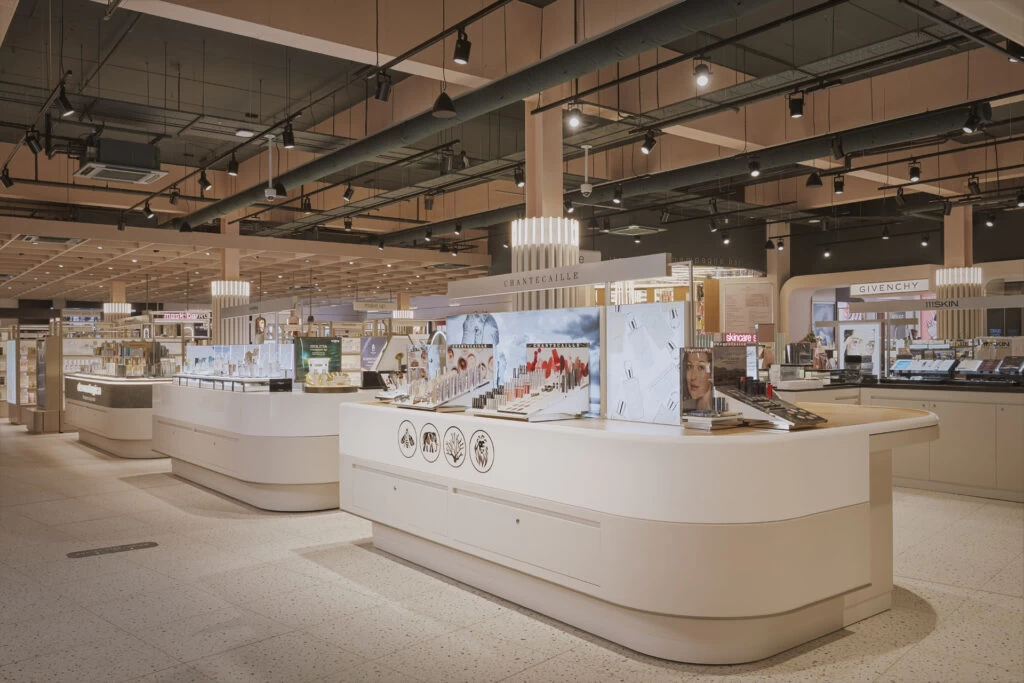 H BEAUTY LAKESIDE 2020 – PHOTOGRAPHER – KENSINGTON LEVERNE

H beauty customers are given the opportunity to experience an interactive and unforgettable, 360-degree experience from the moment they enter the store until departure, each of the unique, in-store services have been shaped with social distancing in mind and created to provide customers with an unmatched, elevated beauty retail experience. The extensive health and safety measures in-store can give customers the peace of mind that they can shop beauty to their heart's content in a safe and secure environment, without compromising on experience. Everything at H Beauty has been designed with social distancing and safety in mind.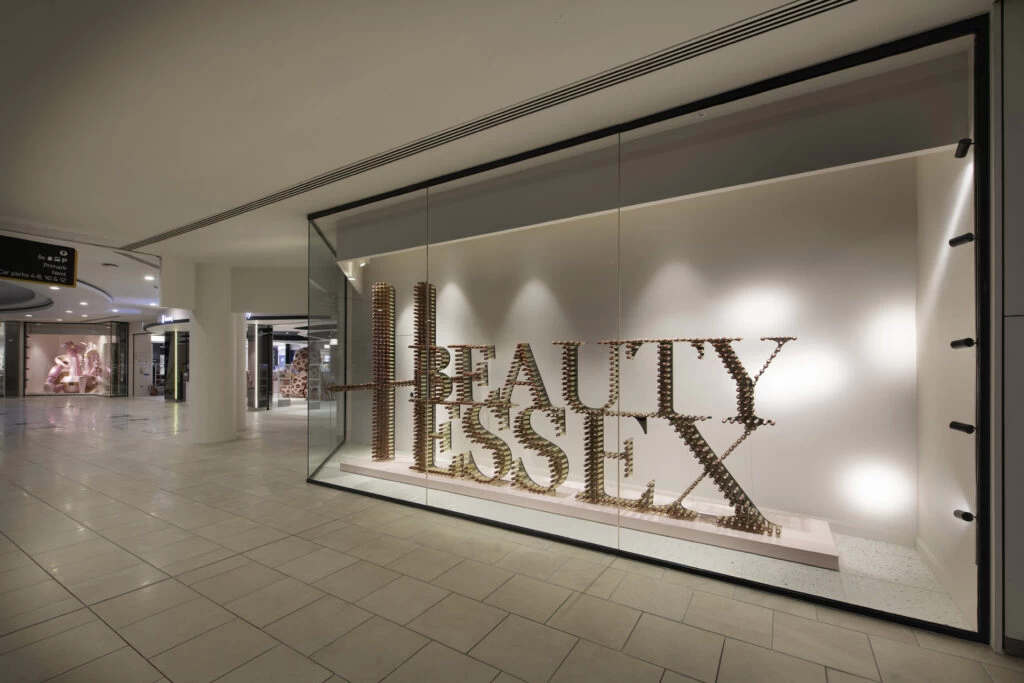 H BEAUTY LAKESIDE 2020 – PHOTOGRAPHER – AUSTIN HUTTON

Beginning with the Skincare Station, where customers will be treated to facials from the foremost skincare brands, moving to the magic mirrors which in lieu of counter sampling, allows customers to virtually try on a host of different makeup products and colours and the Playtable, which offers access to dry Hair Styling and endless makeup demos and consultations.   Many of the instore experiences lend themselves to a socially distant, safe environment including A Click & Collect service will also be available from late September for customers who shop online atHarrods.com, where they can receive and try on their parcels in the changing rooms, and finish their experience at The Champagne Bar, a social space to sit, sip and celebrate with friends from a stunning menu of patisserie and cocktails created by Harrods leading food and beverage team.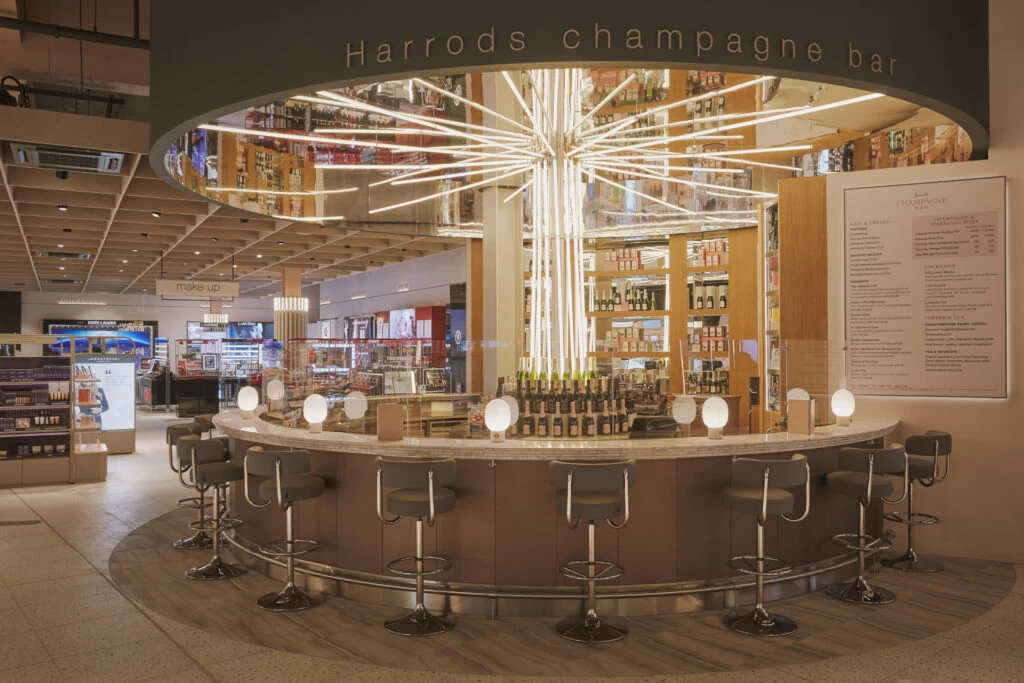 H BEAUTY, LAKESIDE CHAMPAGNE BAR – PHOTOGRAPHER – KENSINGTON LEVERNE

The store will come alive with a series of exclusive and distinctive on-counter services including bespoke fast facials from Sisley, using a selection of the brands most nourishing products as well as product personalisation from Dior, Givenchy, and Atelier Cologne.

Succeeding the grand opening of H beauty, further brands and services will become available including the most on trend and modern eyewear styles from the David Clulow Sunglasses boutique and the launch of the Click and Collect service in late September. These launches will soon be followed by Dior Beauty in early October.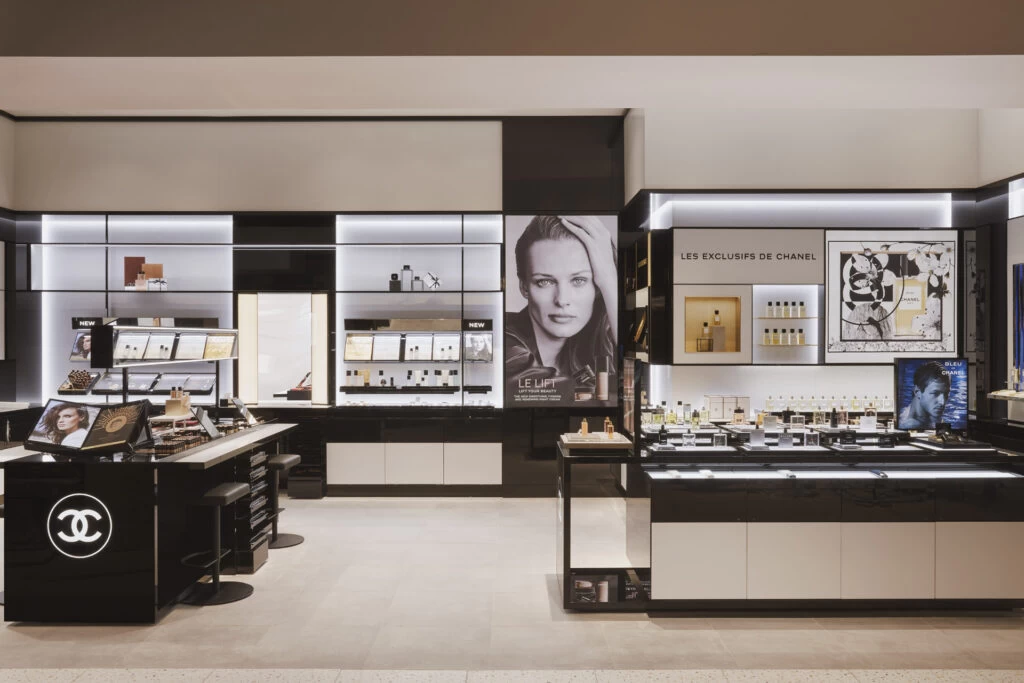 H BEAUTY LAKESIDE 2020 – PHOTOGRAPHER – KENSINGTON LEVERNE

Kate Grant, speaking on behalf of intu Lakeside commented "We are incredibly excited to welcome H Beauty to the centre. Harrods is an iconic name, and the beauty sector is going from strength to strength at present. We therefore believe the new concept will thrive at a high footfall location like intu Lakeside."

"This announcement sits amongst a host of other leasing deals recently completed or in the pipeline, as the retail sector continues to recover, and confidence grows. Physical retail remains key to brands' success and experiential stores like H Beauty are proving a particular draw for customers."
Forwarded from https://www.retail-focus.co.uk/