Lessons Retail Can Learn from Health Care Design
designretailonline
designretailonline
2020-09-16 17:52:27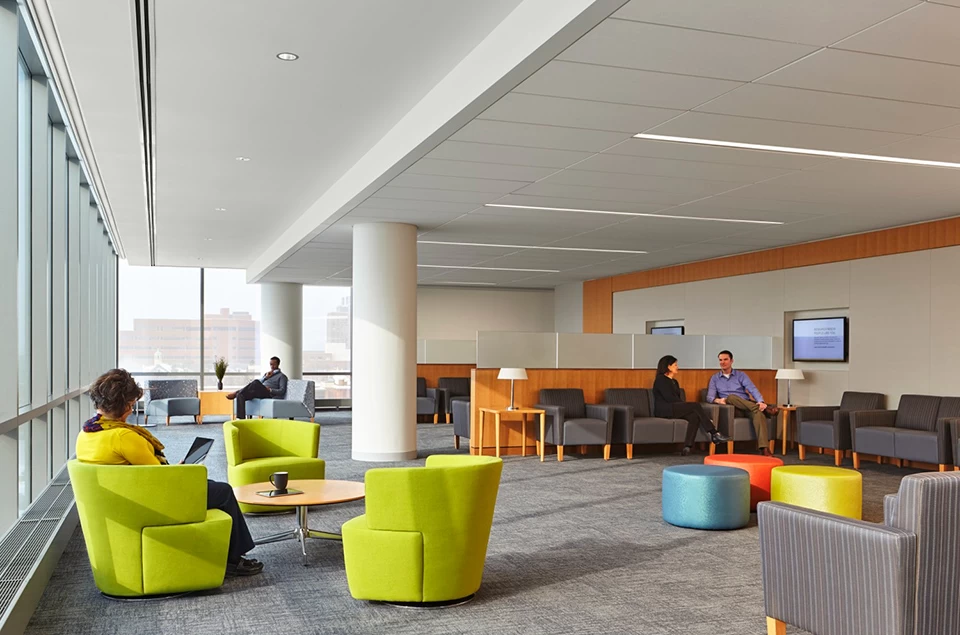 In M Health's Clinics & Surgery Center, public areas are designed more like retail public areas, and everyone who enters the building is equipped with radio-frequency identification (RFI) badges. This empowers patients to have flexibility in where they wait, finding areas that have adequate physical distancing, privacy and comfort. Photo by Craig Dugan Photography
As a designer who has focused on the health-care industry for most of my career, I am amazed at how the COVID-19 pandemic has pushed America's health-care system and society to adapt at remarkable speed. Change that usually would take years has occurred seemingly overnight and pushed health care to adopt practices already seen in other industries. The one common element for all industries is that we are consumer-based, and as a result need to focus our attention on aspects that ultimately improve the consumer experience. Trust levels have been dramatically affected across industries and design can play a key role in restoring trust with our customers and employees.

Hospitals and care facilities have always focused on safety of patients, visitors and those who work in the facility with priority towards infection prevention, disinfection and cleaning. When patients are asked their No. 1 concern about visiting their doctors or going to the hospital, it is safety. Visible and enhanced disinfection protocols have now become the norm. Upon entering the facility, personal protective equipment (PPE) and hand sanitizer stations are readily available. Some facilities have incorporated hand-washing sinks in their waiting spaces. Cleaning and disinfection processes have been ramped up, occurring after every patient uses a space.

A challenge that has been present for some time is the frequency of disinfection. The industry is struggling with products that can withstand the types of disinfectants used. Most health care infection and prevention specialists recommend products that are "smooth and wipeable," making cleaning easier and more efficient. When a pathogen has contact surface transmission characteristics, this expectation is critical. The repeated use of disinfectants has caused product failures and as a result, designers must be diligent when making selections that will hold up under such conditions.

Health care has adapted to the physical distancing requirements as well. Currently, many of the methods used are short-term solutions. They were put in place in a reactionary manner due to the urgency of the issue. Short-term solutions have included floor stickers to remind people of the correct distance at which to wait, removal of seating in waiting areas and installation of acrylic shields at face-to-face interaction points, such as reception and check-in. We have begun to incorporate smaller groupings of seats in waiting areas, separated with decorative partitions.

Longer term, sustainable solutions are where design can play a critical role. We can prompt behaviors through the careful use of materials that can establish the route of travel. We can design spaces with specific spatial attributes, such as lighting, color and architectural elements to direct people accordingly. Redesign of operational processes can eliminate the need for queuing and large numbers of seats in a waiting area.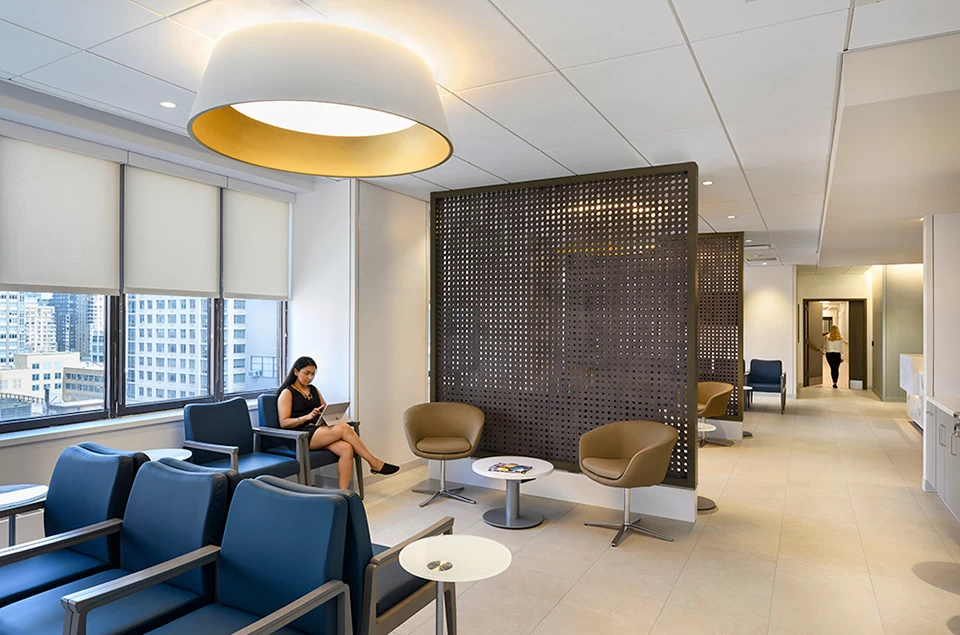 Even more traditional waiting areas can be rethought to allow for distance between patients. Smaller, separate groupings of seats, like at Mount Sinai West Infusion Center, allow people who come for frequent appointments such as chemotherapy to stay with loved ones but be separated from other patients with partitions, flexible walls and more. Photo by Bjorg Magnea.

Health care has begun to focus on the design of newer facilities with more flexibility in mind. In many clinic or hospital waiting areas, the use of seating that is attached together was commonplace. This type of seating does not enable physical distancing, so we have been looking for furniture solutions with greater flexibility to allow for seats to be moved or removed as necessary.

The added benefit for the experience is that such spaces look more like comfortable lounges that allow patients a choice where they wait. Health systems like Minnesota Health (M Health) have significantly reduced the number of waiting areas in their buildings. In M Health's Clinics & Surgery Center, public areas are designed more like hospitality settings, and everyone who enters the building is equipped with radio-frequency identification (RFI) badges. Concierge staff greets patients, confirm their appointments and distribute their badges. This elevated level of engagement empowers patients to move throughout the building as they wait, finding areas they can have personal space, privacy and comfort.

One of biggest game-changers for health care has been the rapid adoption of Telehealth. Patients can have a virtual visit with their care provider from the comfort of their home. Even as Telehealth's popularity grew with providers in recent years, it lacked mainstream patient acceptance before the COVID-19 outbreak. While certain population groups (the elderly, those in rural areas) found it extremely beneficial, most patients still preferred to leave their homes and venture to a doctor's office, clinic or urgent-care center. With the spread of COVID-19, Telehealth became a necessary lifeline for all patients, essentially overnight. Whether stricken with mild COVID symptoms, sore throats or mental health needs, the best way to receive care during the pandemic has been virtual. Serving as the first line of care for patients, Telehealth has been a massive tool for fighting further virus spread and maintaining preventive and chronic illness care. It has met with great success to improve access in a safe, convenient manner and we do not see this going away.

Moving forward, every health-care organization is gauging the extent that Telehealth will impact its facilities. We anticipate that space normally assigned for in-person visits will be reduced or repurposed to virtual visit spaces. The design of the virtual visit space is an opportunity to craft a brand experience that is unique for that organization, as well as memorable and meaningful for the patient.

Virtual engagements have wider application and could be used to enhance the online shopping experiences for consumers, creating a more personal way to connect.

As numerous health systems and states have opened drive-through COVID-19 testing centers over the past months, there's been this sense that this is a temporary solution. Similar to retail, maybe they should have more permanence. The benefits of drive-through testing—keeping possibly sick patients in their cars to better protect healthcare staff and other patients along with general convenience—are just as relevant during a normal flu season. The success and widespread adoption of drive throughs and curbside pickup seen in retail, restaurants and fast food reveal the appeal of such conveniences.

Every virus the world faces presents its own unique challenge, but they all spread through some form of human contact and interaction. This reality should motivate all industries to embrace how design can help them inherently reimagine customer engagement for increased social distancing without sacrificing the connection between people and brands. There is an important emotional connection that design seeks to build. Measures like those listed above won't stop a pandemic dead in its tracks, but they are essentially pre-engineered ways to reduce spread and save lives this November, next flu season and during any future epidemics.

With more than 40 years of industry experience, Jocelyn Stroupe is a leading expert in the health market. Stroupe thrives on uniting the disciplines of planning, programming, branding and facility management with cohesive, comforting interior design. She is especially invested in understanding the unique needs of all users—patients, visitors, providers and staff—in their healthcare settings. Stroupe's colleagues and clients appreciate her approachable, collaborative and genuine approach—and her intuitive approach to creating healing environments.

Forwarded from designretailonline.com